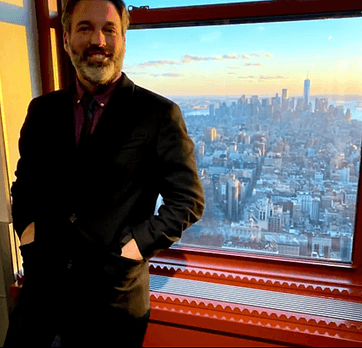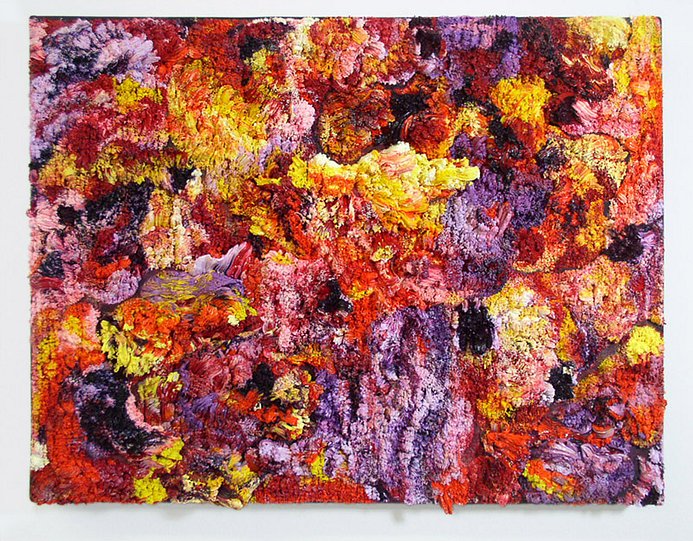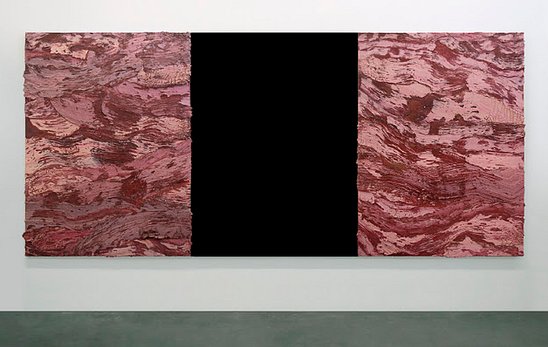 Grant Vetter, Collateral Damage (Triptych), 5 1/2 by 12 1/4 feet, Oil on canvas over board and car clear-coat sprayed over acylic.
Grant Vetter, Choral: Electric Eel (Oceanic Series), Oil on canvas, 3 by 4 ft.
Contact Info:
Dr. Grant Vetter
His / Him
TEL: 480.760.1709
EMAIL: grantvetter@gmail.com
Bio
With over twenty-five years of experience in the arts, Dr. Grant Vetter has served as a curator for Fine Art Complex (Head Curator and Executive Director), Artlink (Director of Curatorial Projects), Arizona State University (Galleries Director), Mesa Community College (Senior Galleries Coordinator), Autonomie Arts (Head Curator), and the Foundation for Art Resources (Curator and Board Member). The exhibition spaces that he runs have been recognized for being in the Top 10 galleries in the State by the Phoenix New Times and Fine Art Complex is known for "addressing topics at the forefront of American culture such as racism, sexism, and climate change" in addition to being awarded "Best in Exhibitions" by the city of Tempe. Dr. Vetter was named one of the top 100 Creatives by the Phoenix New Times and the projects that he has worked on at Artlink, ASU and Fine Art Complex have served the arts community by helping to grow the infrastructure of support for artists throughout the state of Arizona.
He currently teaches criticism as the Pacific Northwest College of the Arts in the Critical Studies Program and contemporary art history in the art depratment. Prior to teaching at PNCA Dr. Vetter served as an instructor in the Fine Art Program, the Global Studies Program, the Barret's Honors College and the Museum & Heritage Studies Program at Arizona State University. In the past he has served as a teacher at the School for Science and Architecture (Sci-Arch), the Art Center College of Design (ACCD), the University of California, Irvine (UCI), the Norton Simon Museum and the California African American Museum (CAAM). Dr. Vetter has given talks at the Munroe Center for Social Inquiry at Pitzer, the Torrance Art Museum, the University of California, Long Beach, and many other venues. He regularly writes reviews of art exhibitions and is the author of The Architecture of Control: A Contribution to the Critique of the Science of Apparatuses (Zero Books 2012), which proposed an entirely new lexicon for how we can understand relations of power/knowledge in the twenty-first century.
Dr. Vetter completed his Post-Doc in the International Curators Program (ICP) at the NODE Center for curatorial studies in Berlin and holds advanced degrees from the European Graduate School (EGS), University of California, Irvine (UCI), and the Critical Theory Institute (CTI). He completed his undergraduate work at the Art Center College of Design (ACCD) in addition to taking classes at Associates in Art and the California Art Institute. He has also completed coursework at the Praxis Center for Aesthetic Studies in arts administration. During his time as a student, he was the recipient of the Bradford Hall Arts Scholarship, the San Marino League Arts Scholarship, the Pasadena Art Alliance Arts Scholarship, the Art Center College of Design Scholarship and a UCI Teaching Fellowship.
As part of his Post-Doc work in curatorial studies Dr. Vetter had the chance to study with curators from around the world, including Aoife Desmond, Anja Foerschner, Marie Jacobson, Tina Madsen, An Paenhuysen, Lauren Reid, Sylivia Sadzinski, Isabel de Sena and Kathy-Ann Tran. During his career he has also had the opportunity to work for, or with, curators like Andi Compognone (Lancaster Musuem of Art), Jeff Chabot (Modified Arts), Ciara Ennis (Pitzer College Art Gallery), Kio Griffith (West Los Angeles Community College Art Gallery), James McDevitt (Cerritos Community College Art Gallery), Donna Napper (San Jose Institute of Contemporary Art), Marx Presneill (Torrance Museum of Art), Ed Gomes (Mexi-Cali Biennial) and Luis G. Hernandez (San Deigo State University). Other notable organizations that he has partnered with to create exhibition projects include the Wrong Biennial, the Mapping Biennial, The Center for Aesthetic Activism, ARTRA Curatorial, Land [Muse]um, the Fiber Arts Network, the Institute for Humanities Research, Pacific Non-Standard Time, #NastyWomen, and many other curatorial collectives. He currently works under Maura Reilly at Arizona State University, who wrote the landmark book Curatorial Activism: Towards an Ethics of Curating, in addition to organizing groundbreaking exhibitions like Global Feminisms and The Dinner Party.
In art and cultural criticism Dr. Vetter studied with Juli Carson, Martha Gever, Gary Kornblau, Norman Klein, Simon Leung, Catherine Lord, Terry R. Myers and Jan Tumlir. While working on his Ph.D. in philosophy, art and critical thought he studied with Giorgio Agamben, Alain Badiou, Judith Butler, John Caputo, Simon Critchley, Manuel Delanda, Peter Hallward, Michael Hardt, J. Hillis Miller, Brian Massumi, Jacques Rancière, Avital Ronell, Gayatri Charavoty Spivak and Slavoj Žižek. Throughout his M.A. work in Media and Communications and his time at the Critical Theory Institute, Dr. Vetter's studies included a special focus on the intersection of art and technology where he worked with media theorists like Geert Lovink, Wolfgang Schirmacher, Michael J. Shapiro, Samuel Weber, Siegfried Zielinski as well as film makers like Claire Denis, Barbara Hammer, and the Brothers Quay, and video artists like Jean Rasenberger and Kerry Tribe. The artists that had the biggest influence on his art practice during his B.F.A and M.F.A. studies were Kevin Appel, Scott Hess, Richard Jackson, Rachel Lachowicz, Daniel Joseph Martinez, Monica Majoli, John Millei, Yunhee Min, Connie Samaras, Jim Shaw, Aaron Smith and Bruce Yonemoto.
In addition to curating, teaching, writing, and editing books, Dr. Vetter has exhibited extensively throughout the U.S. and abroad. His works have been exhibited at the Pitzer Gallery in the Center for Social Inquiry in Claremont, the Werkstatt Gallerie in Berlin, LA><Art in Culver City, the Thompson Gallery at the Cambridge School of Weston, UCITY Art Museum in China, Gallery Lara in Tokyo, Torrance Art Museum in southern California, Runnels Gallery in New Mexico, Garboushian Gallery in Beverly Hills, and the Center for Contemporary Art in Santa Ana. He was the winner of the Orange County Grant for Painting, Drawing and Printmaking in 2007 and 2009, a winner of the international contest M.F.A. NOW and a runner up for the William and Dorothy Yeck award for Painting. His work has been included in exhibitions by curators like Lucy Lippard and Edward Lucie-Smith and recieved write-ups in Art Forum, the Los Angeles Times, Direct Art and other magazines.